MicroDisc® Membrane Filter
Cobetter MicroDisc® gamma sterile individually packed membrane filters, for colony counting in bioburden testing, are available with gridded and non-gridded MCE(Mixed Cellulose Ester) and CN(cellulose nitrate).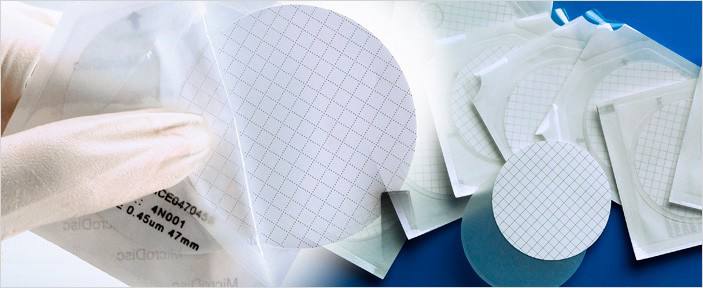 Bioburden Testing or microbiology testing plays very important role of quality control in a variety of industry like water, food&beverage, pharmaceutical, cosmetics etc .

Cobetter offers complete solution to microbiology testing, including gamma sterile single packed membrane filters, continuous packed membrane filters, filtration funnels, filtration units, manifolds, dispenser.
Features
Sterile, individually packed

A range of membrane pore sizes are available to meet wide variety of applications

Consistent performance

Lot traceability
Specifications
Membrane Material

Mixed Cellulose Ester or Cellulose Nitrate


Filter Diameter

47mm

Fliter Surface

Gridded and plain

Filter Color

white and Black

Filter Pore Size(

μm

)

0.22 / 0.45 / 0.8μm
Ordering Information
Cata. No.

Color

Pore Size

Diameter

Grid/Plain

Membrane

Packing

SMFWGMC470022

white

0.22 μm

47mm

Gidded

MCE

MCE

MCE

100pcs

SMFWGMC470045

0.45 μm

SMFWGMC470080

0.80 μm

SMFLGMC470022

Black

0.22 μm

MCE

MCE

SMFLGMC470045

0.45 μm

SMFWGCN470022

white

0.22 μm

Cellulose Nitrate

Cellulose Nitrate

Cellulose Nitrate

SMFWGCN470045

0.45 μm

SMFWGCN470080

0.80 μm